Special Assistance in Challenging Times
Otava is here to help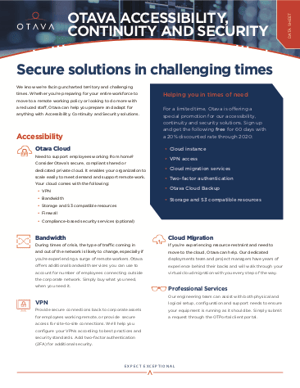 We understand these are challenging times. Otava is committed to serving our clients, and we have enacted a Special Assistance Solutions offer to assist you during this challenging time.
For a limited time, we are offering the following cloud bundle free for 60 days and a 20% discounted rate through 2020:
Any shared or dedicated private cloud instance
VPN access
Two-factor authentication
Cloud migration services
Otava Cloud Backup
This offer is available to new clients and existing clients seeking additional Otava services.
Download our information sheet, Special Assistance in Challenging Times to learn more! Or to speak to a representative email solutions@otava.com.